Viking Age Characteristics
Viking Age, like many other Betsoft slot games, this game is a 5-reel slot and it has 30 pay-lines. The graphics of this game are smooth and the visuals are clear. The colours this slot utilises are bold and bright and throughout the game, there is engaging music that plays in the background. This game's graphics are 3D and you will always see some animations that appear whenever a winning combination is come across.
Viking Age slot has a Viking theme and the main character is Amma who is a female leader. Amma has long blonde hair tied in braided pigtails and her quest is to go through nearby villages with 2 companions who are male. They have to trek through a countryside scene where the 5 reels are set. The reels of the Viking Age have an encasing of ornate stone decorated in masks and patterns. During the gameplay, you can see Amma at the right bottom of the screen yawning. This game is full of fun and the characters are quite interesting.
Viking Age Slot Free Spins
Most slot games have free spins and Viking Age is not an exception. The Viking Age free spins make the game more interesting and it is very unusual. A player triggers this feature when three or more Amma scatter symbols appear anywhere during the gameplay. Once a player gets bonus spins, play moves to another set of reels, on either side and they have multiplier values.
If the player forms a winning combo on a pay-line containing multiplier values, their win will increase by that value. However, you don't have to get the matching multiplier values so that you can take advantage of the boosted payouts on this game. The free spins feature boosts the winning rate of a player and it is a matter of strategizing and some luck in it.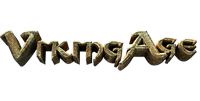 Jackpots Available for Viking Age
The betting range of this game varies from £0.02 to £75 which allows a maximum jackpot of 7,500 coins. For the base game 300 coins is the maximum jackpot a player can win while playing the Viking Age. This jackpot is usually awarded when a player spins in five of the Wise Man symbols. Since this game offers you so many features and bonus games it is very possible to win the jackpot while playing.
Special features and Viking Age slot Video review
Free Spins :
10 Free Spins
Special Features :
3 or more Dragon symbols trigger Runestone doors feaure
See the game in action here
How to Play Viking Age on Mobile Devices
You can play Viking Age on your mobile devices. The game is available in most Betsoft casinos and most of them support mobile sites. Players can play Viking Age for fun or for real money on these Betsoft powered sites from a web browser. There is no need to download any app and this game can be played on iOS and Android devices. All you have to do is access a Viking Age casino via a web browser on your mobile device, create an account and start playing the game.
The gameplay is basically the same as the one offered on the desktop version. Viking Age has a coin stake limit that ranges from 0.20 to 0.50. The game has a good number of bonus features just like many Betsoft slots. There is even a bonus round but there isn't a multiplier or wild. This game's interface offers a MaxBet button for high rollers which is an amazing option. The gameplay will be discussed later in this review since it is the same for mobile users and desktop users.
Tips and Tricks to Win at Viking Age
To win this game, you have to know the basic gameplay. There are 30 pay-lines and a maximum of 5 coins allowed on each pay-line. They can range from 0.02 to 1.00 and this is very appealing to low rollers. However, there are several bonus features and regular payouts which make this game suitable for players who want to maximise their initial wager. Since there are free spins, 2 mini-games, and multipliers players have chances to add to their winning.
This game is ideal for beginners and players who prefer slow-paced games since there is less distraction. Viking Age also has an Auto Play option and this means that you can set the game to go on as you do something else. The reels of the game can continue to spin until the initial wager has gone or for a set number of times. Any player should take advantage of what this game offers.
Viking Age provides players with many ways of increasing winnings and 30 pay-lines to wager. These are more than enough reasons why you should join Amma and her companions on their journey.
Main Symbols in Viking Age
This game's developer has used 3 characters of the slot game as symbols. Apart from the major symbols, there are others such as a Battle-axe, a Statue, Golden Jewellery, a Rune Stone in the snow, a Longboat and a Shield. There are 3 Bonus symbols and the first one is the Viking Helmet. Whenever 3 or more of the Viking Helmets are on show a mini-game gets activated. Players can then choose one of the Helmet's to reveal a random prize. The prize can either be a cash prize, a chance to play the Arm Wrestle Bonus game or free spins. The Arm Wrestle Bonus game becomes available whenever 3 or more symbols appear. The player is then asked to choose the arm wrestler they think will emerge as a winner. If they guess correctly the winning amount gets higher. There is also the Amma's symbol and when a player lands 3 or more of this they activate a Free Spins bonus round. However, unlike most slot games Vikings Age does not have a Wild symbol and neither is there a Gamble feature.

Amma

Arm Wrestling

Viking Blond
5
x 1500
4
x 750
3
x 375
2
x 125

Red Beard Viking
5
x 1250
4
x 625
3
x 250
2
x 100

Viking Ship

Viking Axe

Crown

Dragon
Runestone

Shield
FAQs about Viking Age
Who is the Software Provider?
Viking Age is a slot game developed by Betsoft Gaming. This software developer has been in the online gambling industry for a number of years and they are famous for the development of slot games. Viking Age is a perfect slot game that has unique features, great graphics and sounds and this is all thanks to Betsoft.
What is the winning percentage?
The Viking Age game has a Return to Player rate of 94.30%. This is quite impressive and players have higher chances of winning. You can try the Viking Age free play online and test your chances of winning.
How many winning lines are there?
As mentioned earlier Viking Age is a 5-reel slot and it has 30 pay-lines. For every pay-line, there is a maximum of 5 coins. These are many pay-lines which boost the chances of a player increasing their winning amount.
What is the Potential Maximum Win?
For the base game, a player can win a maximum of 250 to 300 coins for a combination of 5 of a kind. However, there is a possibility of landing on a big win with the themed coins. The highest payout for this game is 7,500 coins.