Cleopatra Slot Characteristics
The name Cleopatra instantly brings to mind exotic images of deserts, pyramids, and ancient Egypt - and these are the sorts of things that are featured during the Cleopatra casino game experience. The game has most of the characteristics you would expect from a modern slot such as free play (which we look at soon), multipliers, autoplay option, bonus rounds, wilds, and scatter symbols.
One thing it does not have is a progressive jackpot, however, it does have a substantial jackpot of its own that we will look at in further detail. The look and feel of the game borrowed from the Ancient Egyptian theme, though for some it might feel slightly dated compared to some newer ones, it is still a fun and exciting slot to try out and play.
Cleopatra Slot Free Spins
One way of accessing the Cleopatra free spins is via the Sphinx symbol. If you get 3,4, or 5, of the Sphinx symbols - and they can be in any position on any of the reels, this will unlock the Cleopatra Bonus round. Here you will get free spins in the bonus round of which you start off with fifteen. While spinning these Cleopatra free spins whatever your winnings are they will be boosted with a 3x multiplier.
You can also be awarded even more free spins in this round up to a total of 180 which can potentially boost your winnings multiplier substantially and lead to more potential profit. Other ways of accessing free spins on Cleopatra is by taking advantage of free spin bonus and promotions that a number of casinos offer to new players. This is a great way to try the game risk-free and see if the game measures up to its legendary status.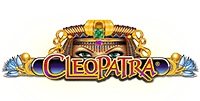 Jackpots Available for Cleopatra
As stated before this is not a progressive jackpot game so it does not offer the massive jackpot money that can be found on certain other slots. However, there is still a sizeable Cleopatra Jackpot that makes the game well worth playing if you are looking for a potentially big win. To have a chance of winning the jackpot you need to keep an eye out for the Cleopatra symbols as they spin around and appear. If you are lucky enough to get five of them pop up on the reels then you can win the jackpot which is 10,000 coins which is not too bad at all.
Cleopatra is also the wild symbol and she can change to read 'Double' which will cause any wins to obviously double up in value.
Special features and Cleopatra slot Video review
Free Spins :
15 free spins with 3 sphinx
Maximum Win :
x25,000,000
See the game in action here
How to Play Cleopatra on My Mobile
Playing Cleopatra on your mobile could not be any easier to do. It is an exceedingly popular slot developed by a top-tier software developer, therefore, the demand is high. That being the case there is a ton of online casinos that offer the game to keen punters. This means that it can be played via these sites by downloading software or not. For those that prefer their gaming experiences optimised for mobile, they can download native apps from the Google Play Store, Apple App store and sometimes for Windows devices as well. As you probably know these apps are free to download and offer an excellent casino experience right on your phone.
For those that are short of storage space or who prefer not to download extra software can also play the game on the internet browser - pretty much all smartphones offer this capability.
Tips and Tricks to Win at Cleopatra
Like all slot games, the chance is going to be the major factor for winning, one good thing is that the RTP on the game is reasonable so the odds are good when compared to some other slots. The general consensus is that the higher wagers are the more likely they are to bring in the big winnings but this will be dictated by your bankroll and wagering limitations so make sure you stick to them.
One great thing is that due to the popularity of the game there are loads of Cleopatra free play online options available out there to try before you buy as such. This will give you the chance to get an excellent handle on what all of the symbols mean, how the different aspects of the game come together and work on the best strategy for you considering all of your needs. Also, make sure that you don't miss out on any potential Cleopatra free spins that your favourite casinos may be offering to be able to take advantage of them.
Main Symbols in Cleopatra
As you can imagine, from the name of the game and the images that it conjures up the theme and symbols revolve around Ancient Egypt and the queen Cleopatra. As mentioned before the main symbol to keep an eye out for and cross your fingers for is the Sphinx symbol which opens up the bonus round. Three, four, or five of these symbols across the reels are what you want in this regard for the free spins. Another lucky symbol is Cleopatra herself which is the wild and can double up your winnings.
Other symbols are things like hieroglyphics, and images of Egypt in its Ancient period. These symbols spin over five reels offering punters twenty pay lines to potentially win some money.

Cleopatra Symbol
2
x 10
3
x 200
4
x 2000
5
x 10000

Lotus Carving

Scarab Symbol

Gold Pendant

Crook And Flail

Eye Of Horus
Ace Card Symbol

Ten Card Symbol

Nine Card Symbol

Sphinx Symbol

Jack Card Symbol
Queen Symbol

King Card Symbol

Logo Wild

Sphinx Scatter
FAQs about Cleopatra
Which Software is behind the game?
The software that powers Cleopatra was developed by the well-established company International Game Technology who have been churning out hits since the 1970s. With that kind of history and pedigree behind it, it is no wonder that they are able to create fun and exciting games such as this one.
What is the winning percentage?
Cleopatra offers a reasonable return to player rate of 95-96% which is audited by third-party companies to ensure fairness and randomness. This is a good average number that offers players a decent potential return of winnings on a wager and is neither super amazing or tight at all. Minimum bets are only 20p to be in for a chance.
How many winning lines are there?
Cleopatra offers gamers 20 pay lines that are spread over 5 reels and three rows which is a pretty standard setup in regards to online slots. As you would expect players can choose how many pay lines they would like to bring into play. And as normal the more pay lines the higher the wager but the higher the chance of winning.
What is the potential maximum win?
The top jackpot on Cleopatra is 10,000 coins which is a sizeable win. Perhaps not enough for some when compared to the bigger progressive jackpots but it still offers a decent thrill and reward for playing this fun game. Like all slot games make sure you don't blow the budget trying to chase the big win but stick to your allotted bankroll and you can certainly have a lot of fun with this game.