Extra Wild Slot Characteristics
It wouldn't make sense to do an Extra Wild review without going into some more detail about the game itself. For those who are not as familiar with
Merkur slots
, the general concept remains the same, the player places a bet, spins the reel and if a winning combination (the pay line) comes up then the player wins the 'bet' and is rewarded with a pay line dependent payout. Extra Wild uses a somewhat minimalist style. The graphics are simple, there are only 10 pay lines and the only bonus in the game is a multiplier. That awards on any winning spins where a wild symbol is present.  To some, this may not sound that simple but to put it into perspective some online jackpot slots can have upwards of 2000 pay lines as well as a completely different game for the bonus round. However, this simple approach really does add to the game, unlike most video slots all the symbols on Extra Wild are relatively high value due to the low number of pay lines so wins may be less regular but more substantial.
Extra Wild Slot Free Spins
Although unlike many online video slots Extra Wild doesn't offer any bonus rounds or free spins within the game itself, most if not all online casinos will offer free spins at some point, usually as a welcome bonus or loyalty bonus. It's difficult to predict who and when these offers are available so it would be recommended to check this out before signing up to a new Casino. As mentioned earlier Genting casino has an excellent rewards scheme if you're not comfortable yet doing your own research. Before signing for a free spins offer it's a good idea to check what slots the free spins are eligible on as some Casino's will offer spins on selected games only.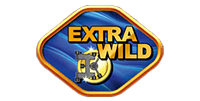 Jackpots Available for Extra Wild
The all-important question when it comes to any slot game is; whats the jackpot and how do I win it? With Extra Wild the answer is much simpler than most, due to the small number of symbols and pay lines. In terms of a jackpot we usually think of the max possible winnings, with this in mind it would be possible to win on all 10 pay lines if all the symbols were a match and have the winnings of any of the 10 pay lines multiplied if any of those symbols happened to be wilds. Bear in mind that unless a wild was present in every one of the paylines then only the pay lines containing a wild would be subject to the multiplier. With a max bet per line of £10 and a jackpot of 25x the stake per pay line it is possible but unlikely to win thousands if you place this bet. Unlike some slots, everyone is eligible for a jackpot win not just those placing the max bet. So if you can't afford to waste that kind of money each spin you can still win.
Special features and Extra Wild slot Video review
Wild :
Different Wild symbols
See the game in action here
How to Play Extra Wild on My Mobile
As the Casino market has developed and kept up with the ever-advancing technological age, most if not all online Casino's will have an app. This makes playing on mobile a very simple affair, just install the app of your desired Casino provider and select the Extra Wild slot and away you go. If you have a slightly older smartphone there may be some slight compatibility issues in terms of flash-player. However, as Extra Wild is a relatively simple slot game, it's unlikely that people will encounter any of these issues. If your chosen casino doesn't have an app it's also possible to play many online slots games via a web browser such as Safari or google chrome, simply find the Casino, log in and play as you would on a desktop.
Tips and Tricks to Win at Extra Wild
As with any slots game, there isn't a sure-fire way to guarantee a win, however the most important thing when it comes to being a successful slots player is to know the game you're playing inside out. One way of getting to grips with the game and learning the best tactics is to play an Extra Wild Demo. This is a free version of the game with no real money, a lot of online Casino's offer this for their slots games. A simple google search of Extra Wild free play online should reveal where you can play in demo mode.
Main Symbols in Extra Wild
The symbols of the game depict objects associated with a rich and luxury lifestyle. The main symbols are a gold pocket-watch, a locket, coins and a diamond ring. Usually, in most slots, the value of each symbol will vary massively. However, Extra Wild is unique in the fact that all the symbols are relatively high value. Thus making up for the lack of pay lines. The only symbol that requires any further explanation is the 'Wild' symbol. This symbol will automatically take the place of any other symbol in a pay line. For example, if you have two pocket watches in a row, followed by a wild this is a win. As the wild takes the place of the third pocket-watch. A win including a wild will also multiply the winnings of that pay line. This will be by the multiplier displayed on the wild.

Blue Stone

Diamond

Red Stone

Treasure Bag

Diamond Ring

Coins

Golden Watch

Golden Heart
FAQs about Extra Wild
Which Software is behind the game?
Extra Wild is created, managed and distributed by Merkur Gaming, the same company behind other popular slots such as
Knight's Life
. The software is safe and reliable and it can support games and slots a lot more complex than Extra Wild.
What is the Winning Percentage?
Extra Wild has an RTP of 95.7% making it a good slot in terms of fairness.
How Many Winning Lines are there?
Extra Wild is more like a traditional slot than a new age video slot. So, having a smaller number of pay lines than most, these being 10.
What is The Potential Maximum Win?
The maximum potential win is £2500 from a single £10 spin. However, if a Wild appears in any pay lines the multiplier will apply to the winnings for that pay line. Therefore, the winnings could exceed the i£2500 stated.