Immortal Romance Characteristics
Fans of the popular "Twilight" films will be familiar with the set up of the Immortal Romance game. If you are playing for real or playing an Immortal Romance demo you will still get the idea. The Microgaming slot has a number of features based on the love story centred around vampires. There are a number of different bonus features within the game. To get Immortal Romance free spins, players can use the Chamber of Spins feature which becomes available when you land 3 scatters or more. The Wild Desire feature also appears randomly and gives the player the upper hand. The Wild Desire feature has the ability to turn up 5 reels completely wild. The game also has features that you would expect from a popular Microgaming slot like autoplay and multipliers. The in-game bonuses are only available when you are playing for real money. If you are playing for practise you will not be able to cash these features out.
Immortal Romance Slot Free Spins
If you read any Immortal Romance review you will find that obtaining free spins is really easy for this slot. There are free spins features in the game that help you get free spins and there are also a number of casinos that offer a welcome bonus that can be used as free spins on Immortal Romance. Like many other
Microgaming slots
, Immortal Romance gives players the chance to win free spins directly in the game. Although this feature cannot be used in conjunction with others like the Wild Desire feature, it is still an easy way to win free spins within the game. Amber bonus - The Amber bonus stays unlocked and it can be used during any Chamber of Spins game. The Amber bonus awards players with 10 free spins. 3 or more scatter symbols can also reward additional free spins. Troy bonus - The Troy bonus is another bonus that stays unlocked during regular gameplay. It has similarities to the Amber bonus. It awards free spins with 3 or more scatter symbols. Michael bonus - This is a locked bonus that can be released when the Chamber of Spins game is triggered 10 times. Once unlocked it awards 20 free spins – extra free spins are not awarded here. Sarah bonus - The Sarah bonus is only unlocked after triggering the Chamber of Secrets 15 times. Players then get a reward of 25 free spins.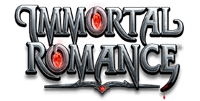 Jackpots Available for Immortal Romance
The jackpot attainable when playing Immortal Romance is 3,645,000x coins (up to £364,500). This can only be won when all of the reels turn wild during the Wild Desire feature. During the Chamber of Spins feature, the biggest jackpot available is when wins can be multiplied 6x, which is worth up to 90,000 coins. During standard gameplay, the biggest jackpot is 15,000x coins. The minimum coin amount is £0.01, but this may differ from casino to casino. It is also worth noting that some casinos will have a maximum cashout figure. Although you may win the jackpot, you might not be able to cash it all out in one go. The Immortal Romance jackpot can be won when playing through any casino.
Special features and Immortal Romance slot Video review
Wild :
Immortal Romance Logo
Free Spins :
Up to 25 free spins
See the game in action here
How to Play Immortal Romance On My Mobile
Like many other Microgaming slots, Immortal Romance is available to play via mobile. The best way to do this would be to download the app of your chosen casino. This means that you get a version of the game that is actually designed to work on mobile, and you will get the benefit of all of the features that are available in the slots gameplay. If your chosen casino does not have an app available then the chances are you will be able to play via mobile web. Although this means you may not have as good graphics as the mobile app, the slot should still be perfectly playable.
Tips and Tricks to Win at Immortal Romance
If you are looking to play Immortal Romance for real money, then it is likely that you will want to know the best tips and tricks to win the jackpot or accumulate free spins. Luckily, because the slot is so popular, many people have figured out tricks of the trade when it comes to playing and winning on this slot. Choose the right character - If you search around for tips and tricks, you'll find that a number of players talk about choosing Sarah when they get the option to for better bonuses. Although this isn't confirmed by the game software makers themselves there are loads of online reviews to say that she is the best character for payouts. Quit while you are ahead - Many people claim that they can only get up to 3 wins using the Wild Desire feature - so it might be worth quitting while you are ahead. View pay screen - Immortal Romance keeps a tally of all of your wins. You can access this by using the "view pays" screen. Finding out where you have won previously is a great way to form a strategy going forward. Get monetary free spins - Sign up with a casino that is offering a cash welcome bonus rather than free spins. Then if you do win you can cash out once you have hit their wagering requirement.
Main Symbols in Immortal Romance
Immortal Romance is a very visual game with a number of different symbols. Below you can find a list of the most popular symbols that are used within the slot and what they mean. The Wild symbols are portrayed by the Immortal Romance game symbol. When you get this you will have hit a Wild. As well as a Wild symbol it is a multiplier symbol that doubles the payout. As is usual with slot machines, the Wild symbol can replace anything. The Scatter symbol in Immortal Romance is a lion. This symbol activates the "Chamber of Spins" bonus round. Wild Desire feature - This symbol activates completely at random. The symbol can run across all 5 reels at the same time and trigger the biggest payout in the slot.

Lion Head

Logo Symbol

Sarah

Michael

Troy

Amber

Mysterious Castle
Book With A Candle

A K

Q J

10 9

Lions Head Scatter

Logo Wild
FAQs About Immortal Romance
Which Software is Behind the game?
Microgaming is the software provider behind Immortal Romance. In addition to finding this slot on most good casinos online, you can also find it on Microgamings website to play for free. Microgaming make games that are available on both desktop and mobile, Immortal Romance and
Ariana
being some of them.
What is the Winning Percentage?
The winning percentage or RTP of Immortal Romance is 96%. This figure is more or less across the board for all Microgaming slots. Like all slots, there are a number of different bonus games and opportunities to win free spins, all of which are considered when the winning percentage is calculated.
How Many Winning Lines are there?
Immortal Romance has 5 reels and 243 pay lines. This is a common slot set up for Microgaming, who favour this set up for a number of their slots. The minimum and maximum coin amount may differ depending on which casino you play on.
What Is The Potential Maximum Win?
The potential maximum win is 3,645,000x coins. The number of coins just alludes to the currency you are playing in. Therefore, if you are playing in the UK with UK pounds the jackpot would be £3,645,000.