Street Fighter II Slot Characteristics
Street Fighter II is a 5x5 cluster pay slot which roughly tells the story of the original game. By selecting one of the available characters, each with their own win patterns and special Wilds ability, you'll get to fight your way up the tournament and become World Champion. But the choice of theme isn't just stylistic - it also drastically affects the gameplay. True to the spirit of the original, the game is presented as a fight between two characters (your selected fighter and a random opponent), each with their own health bar. Depending on whether your wins feature the symbols of your character or your opponent, those healthbars will be lowered until one of them drops to 0. Which bonus game you get to play depends on whether you win or lose the fight.
Street Fighter II Slot Free Spins
The free spins feature in the Street Fighter II is one of the most innovative and interesting we've ever seen in any slot. True to the source material, as the reels drop and symbols align for wins, depending on the particular symbols you get on your paylines one of the two fighters will take damage. If you manage to win the fight by depleting your opponent's health bar, you will be taken to a "boss battle" bonus stage where you can face off against one of the bosses from the original game - Balrog, Vega and, of course, the evil dictator M. Bison. Every single spin for the duration of the fight is a free spin, and whether you win or lose, you get to walk out with the wins! The more bosses you face, the bigger the free spins multiplier will grow!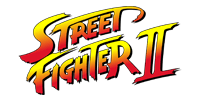 Jackpots Available for Street Fighter II
Sadly, there's no dedicated jackpot available for the Street Fighter II game. Though with that said, the game doesn't lack in opportunities to let you win big thanks to its various bonus features! We already spoke about the boss fights, which is where you can win the most money by far. Each of the four bosses will give you a progressively bigger multiplier, starting at 2x for Balrog and going all the way up to 10x when you finally face M. Bison. Depending on how lucky you are, the final battle can earn you as much as £250,000 from free spins!
Of course, getting there will require you to win a total of 7 fights at the very least (4 against regular opponents and 3 against bosses), which isn't exactly an easy task. Don't worry, though - even if you lose, you'll get to enjoy one of the gems of the Street Fighter II slot, namely an exact reproduction of the car smashing mini-game from the original! You can use an analogue stick and two buttons (for kick and punch) to completely obliterate some poor schmuck's car, and in the process earn yourself a decent consolation prize for losing the fight.
Special features and Street Fighter II slot Video review
Free Spins :
Boss Level Free Spins
See the game in action here
How to Play Street Fighter II on My Mobile
Playing the Street Fighter II slot on your phone is as easy as logging into one of the online casinos that offer it and then starting it up! The game is fully playable on all mobile devices, both from Apple (such as various models of iPhone and iPad) and those running on Android (like Samsung). In fact, we'd go a step further and say that the game works better on mobile than on desktop! The car smashing bonus game has been very clearly designed for touch controls, and while it's hardly unplayable on PC, the place it really shines and reveals its full potential is on your phone. As such, those who have chosen to enjoy the slot on mobile will certainly feel like they're playing the original game during that segment!
 Tips and Tricks to Win at Street Fighter II
Just like any other slot, whether you win or you lose at the Street Fighter II game is almost entirely up to chance. At the end of the day, all you can do is spin the reels and hope for the best! Unlike other slots, however, Street Fighter II gives you the chance to select your character, which can directly affect how much you win. Depending on who you pick, your wins will be more frequent and smaller or less frequent and bigger, and you'll have a unique Wild ability to take advantage of.
Out of all fighters, we believe that good old Ryu holds the highest chance to lead you to victory. Not only is he in the "more frequent wins" category (which will help immensely to chip down your opponent's health), his Wild ability also places 3 Wild symbols on the same row, which is guaranteed to net you decent wins every time!
Main Symbols in Street Fighter II
Most of the symbols you'll see on the board should be very familiar to anyone with slot experience - they're represented by the letters J, Q, K and A. Those symbols are merely filler, however. The important part is the other four, which will differ depending on who your character is and who you're fighting. Two of the symbols will represent your character, and two more will represent your opponent. As such, when you manage to win using symbols for your character, you're going to deal damage to your opponent's health bar equal to the amount of symbols you've managed to string together. The opposite holds true as well - three or more of your opponent's symbols on a payline will damage you. It's important to note that all wins will earn you money, even if they have the opponent's symbols on them - the only effect the different symbols have is how much each of the healthbars depletes, and subsequently which bonus game you'll get to play after the match ends.
FAQs about Street Fighter II
Which Software is behind the game?
The developers of Street Fighter II are the Swedish slot provider NetEnt, who have quickly garnered a reputation as one of the top slot creators of the entire European market. You've certainly played some of their slots before, among which Narcos, Dead or Alive, Starburst, Twin Spin, Guns n Roses and many, many more!
What is the winning percentage?
The RTP, or Return to Player percentage of the Street Fighter II slot is currently set at 96.06%, which is very standard for NetEnt slots. While there are some players who get a bit too hung-up on the exact RTP number, at the end of the day the difference between this and slots with higher winning percentages is so small it's negligible.
How many winning lines?
Street Fighter II does not have any paylines - instead, the Street Fighter II game relies on cluster pays. This means that as long as at least 4 of the same symbol are touching each other, regardless of their exact positions, this counts as a win. As a result, the slot presents players with more winning opportunities than those that rely on paylines.
What is the potential maximum win?
Depending on how big the cluster size is you can win up to £30 per spin, with the default bet of £1 per spin. Of course, you have to keep in mind that when fighting M. Bison all wins are multiplied by 10, meaning that the real maximum win you can get for one spin is £300.